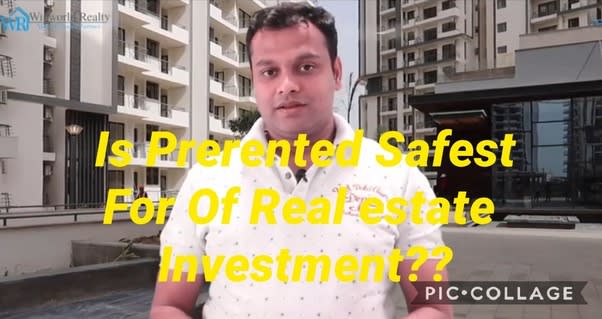 IS PRERENTED SAFEST REAL INVESTMENT OR NOT?
For Me the safest option of Investment can be invest in Pre-Rented property.
Pros
Its Ready to move in ( no risk if Project delay or Uncomplition.
Rental Income from First day.
Easy adjustments
Capital appreciation
Cons of pre-rented property.
Sometimes due to Fix rental You purchase. Property above market price
Even Tenant is liable to live only Till lock-in period which is generally 3 Years . Hence If Tenant vacates all your interior goes waste, as Generally People buy a Part of total space.
Generally Prerented Properties are Sold on ROI basis. For example Amazon is Giving a rental of RS 100/Sqft. If the property sold at 7 % ROI then cost of the property will be
RS 100 ( monthly rental per sqft ) X 12( Months) /7X100 = Rupees 17,143/- psqft
But generally People will be happy to buy bigger brands rented places even at higher price and less ROI.
Now U will ask what is the Problem even if we buy at higher price and get a Fix rental . I will say their is no problem if company remains even after the lock-in period. Might be this big comapany lives for 9 years, But believe only 50% companies complete their 9 Year lease period. They might have to Wind up, Expand, or reduce the size etc, or sometimes change the locations.
Now Here is the Trap for U & how to Be Wise to invest .
I will start with a example , A true story. Thier is a Office Of 5500 Sqft in Welldone Tech Park , Sohna Road Gurgaon. It is Owned by 4 Owners. Size varying 1120,1620, 1286 , 1286 Sqft Total Area = 5312 Sqft . All Four People ( They were unknown before they purchased this Property). at Age of retirement felt that it's a time but a Property and make some Fix rental income So that they can live with it For rest of their life and Enjoy thier retirement. Now This 5300 Sqft was along with Furnishing was Leased to A software company . With a lock-in Period of 9 Years and 3 Years lock-in . Most of them when purchased this spaces had 25–30 months lock-in left as They purchased after few months of operation. The Space was Leased At RS 65/Sqft. They Purchased at 7% ROI = RS 11,142 /- + registry = Add another RS 468 per sqft = Total cost = 11,600/- ( Formula to calulate the Value of space is Rent /sqft/month x 12/7X100) .Now Company Left after completing The Lock-in Period. At this case supposed we also calculate how much money they got back might be they got a rental of For 27 months in average. Now The total rental they got per sqft is RS 1755/sqft ( 65X 24 months) So their landing is now ( At the time space was vacated Was RS 9845/Sqft . Now Just See this Floor places Attached below And U will Clear how Prerented works.

Now The 2 Pictures First marked Shows this 4 Units were Clubbed together . And Other shows the Interior plan Of this Space.
Now The Space was vacated in June 2017, now we are sitting on sept 2019. His space is vacant till date, so By now he has paid a Maintainance of Rs 26 months which is Rs 20/sqft ( for 26 months X RS 20 PER SQFT_= RS 520 PER SQFT. now their Landing for Thier space is Rs 10,365/sqft. presently the Property price their Is Rs 6000/sqft, now if they want to Give it not rent they have to Renavate the Space and expenses will land to Rs 500/sqft, hence their landing cost after renovation will be Rs 10,865/-. and Property now will be Leased in Rs 50/sqft at max whenever he get the tenant.
At this case he has lost approx 50% of the value of the property. Things could have been worse if either of the Partner wanted to seperate his space, then each partner had to individually Furnish the unit from scratch.
so this was case study , if you take some precaution, You will not fall under this Trap. The conditions are written below.
Try to take a space which is rented in market rate, supposes . u should not buy a space which is rented at Rs 80/sqft where the existing rent is Rs 50/sqft. In this case company is most likely the vacate the space after the Lock-in period. Because the manager who was given responsibility to finalize the space takes a BRIBE and signs rent which is Higher then market Value. I have personally encountered this ,
Rent Rent you get the the time of Lock-in period should be near equal to the value , at this the Extra price You have purchased the pre-rented property should be covered, example you are paying a Premium of 30% when you buy a pre-rented property against similar vacant fully furnish space.
Even if the tenant has a big profile, try to understand the purpose of taking their space. Some times a Bigger MNCs just take space in some countries to study its market, If they feel market is conducive for them they will Shift to a bigger area , and market is not good then they will windup the space , In both case U loose.
So i mean to say every thing which glitter is not GOLD, You have to check personally it is a GOLD or just a TRAP for U.hence i will keep updating more about this , keep reading
Here are some aspects I want to tell You about us, We are 11 year old real estate company, has seen every thing from scratches, Give right advice to our customers.
. We deal in *All premium residential projects **new & ready to move in **Gurgaon*. We also educate them via our live site visits, Site Visit Series- resi – YouTube (Site Visit Series- resi – YouTube)
2. We have 250+ Brand New Builder floor For Sale in Gurgaon 1 CR to 5 CR. https://www.winworldrealty.in/builder-floors-in-gurgaon/
3. We have 100+ Prerented Properties For Sale In Gurgaon Pre-Rented Office For Sale In Gurgaon (Gurugram) (https://www.winworldrealty.in/property-feature/pre-rented/)
4. We also have 200+ Commercial Properties for sale & Lease In gurgaon https://www.winworldrealty.in/property-feature/office-on-lease/
5. For School & Hospital Properties u. Can also contact us.
CALL 7678205876